Run, Oscar, Run
From Fish Hooks Wiki
"Run, Oscar, Run"
Season:
1
Production code:
118a
Broadcast number:
35
Broadcast Information
Disney Channel premiere:
August 12, 2011
Disney Channel (UK) premiere:
November 12, 2011
Disney XD premiere:
December 2, 2011

When Oscar is told that he will recieve the best attendance award the next day, he tries everything to be on time. Unfortunately, Jocktopus throws him, Bea and Milo to the end of the tanks and they only have one hope - Clamantha.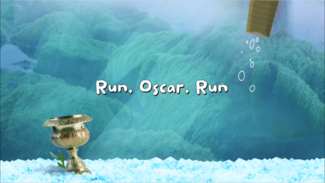 The image gallery for Run, Oscar, Run may be viewed here.
When Oscar recieves his Perfect Attendance Award, Clamantha is sitting at one of the desks in Mr. Baldwin's classroom. Clamantha is in fact at the prison, as seen in the next scene.