Hooray for Hamsterwood
From Fish Hooks Wiki
"Hooray for Hamsterwood"



Pamela Hamster with the two contestants and the bait, Bea, on the show "I Dares Ya!".

Season:
1
Production code:
108a
Broadcast number:
14
Broadcast Information
Disney Channel premiere:
December 17, 2010
Disney Channel (UK) premiere:
March 11, 2011
Disney XD premiere:
September 6, 2011
"Today's mystery item is... a fish!"
―Pamela Hamster
When Bea is down about her stalled acting career, Milo surprises her on a show on Hamster TV, produced by the famous Mr. Nibbles (voiced by Jason Alexander) and hosted by Pamela Hamster (voiced by Sabrina Bryan). Bea, Milo and Oscar take a trip to star-studded Hamsterwood, but the situation takes a turn for the worse when they realize the show is actually a reality show where hamsters are dared to eat things like fish – and Bea is the bait!
Episode Summary
[
edit
]
After watching a show on the Hamster Channel, Milo falls in love with the star, Pamela Hamster. Bea discovers that Pamela is the same age as her, and worries that she's a terrible actress. Milo, watching her upset over it, calls the Hamster Studios in Hamsterwood and they allocate Bea a place in a show there. Bea's excited that she's going to Hamsterwood. After arriving there, Mr. Nibbles, a show producer, shows Bea and Oscar to the Hamster Studios green room, where they will stay until Bea is ready to go on. Meanwhile, Milo goes to the studios of "Secret Teen Witch Hamster" to see Pamela Hamster, but only hamsters can get in, so he puts on a hamster costume and gets to see Pamela. The two fall in love with each other. In the green room, Oscar asks Bea whether she knows what show she's going to be on. Bea doesn't know. Oscar wants to leave, but Bea refuses him to. Milo calls Oscar, telling him that he's dating Pamela Hamster. Bea is called to come onto the set, when Milo appears at the door. The two sit down to watch Bea's show, but it turns out to be a show where hamsters are dared to eat things, and Bea is the mystery object. Oscar and Milo race to the stage to save her. While Milo distracts Pamela, Oscar goes and unties Bea. Pamela offers a contestant to eat both the fish for double the prize. Bea thinks of an idea: pretend to be sick. Bea tells them that she has a disease called "The Ick". The audience races out of the studio, and so do Bea, Oscar and Milo, still wearing a hamster costume. Mr. Nibbles decides that from now on it's just geckos he works with. In the fish tank, the group watch a news report about Hamsterwood being evacuated due to the chance that the Ick will spread. Oscar tells Milo to remove the hamster suit, as it's freaking him out.
Credits
[
edit
]
Gallery
[
edit
]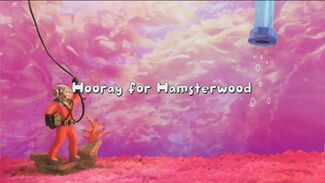 The image gallery for Hooray for Hamsterwood may be viewed here.
External links
[
edit
]