Halloween Haul
From Fish Hooks Wiki
"Halloween Haul"
Season:
1
Production season:
2
Production code:
203a
Broadcast number:
40
Broadcast Information
Disney Channel premiere:
October 7, 2011
Disney Channel (UK) premiere:
August 15, 2012
Disney XD premiere:
October 31, 2011
Halloween night is always ruined by Jocktopus - who's out for candy. But this Halloween, Oscar has come up with a plan - to trick or treat outside the tanks.
Episode Summary
[
edit
]
Credits
[
edit
]
Gallery
[
edit
]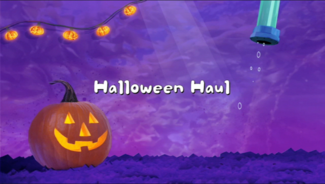 The image gallery for Halloween Haul may be viewed here.
Even though this is the first part of the third episode of Season 2, it aired in Season 1.
In this episode, the fish who have tanks or apartments are seen giving candy to fish at the door of their houses. This would most likely have been done on purpose.
International Premieres
[
edit
]
United States - October 7, 2011
Spain - October 29, 2011
Italy - February 19, 2012 ("Il bottino di Halloween")
Czech Republic - April 5, 2012 ("Halloween!")

Turkey - April 27, 2012
Poland - May 5, 2012 ("Halloweenowy łup")
United Kingdom - August 15, 2012
Latin America - October 28, 2012
Costumes
[
edit
]
In one scene in Oscar and Milo's tank, the trapdoor leading to Oscar and Milo's bedroom has disappeared.
In the scene with a shot of the tanks, there are no animals on the floor of Bud's Pets, then in the next shot of a view from Oscar and Milo's tank of the floor, there are animals trick-or-treating.
For nearly all of the episode, the fish are not wearing watersuits when they are out of the tanks.
When Jocktopus climbs onto the wagon, the wagon is travelling on the floor, but in the next shot, the wagon is travelling on a cupboard top.
The wagon should have fallen off of the cupboard top before it actually fell off.
External links
[
edit
]