Bea Stays in the Picture
From Fish Hooks Wiki
| | | |
| --- | --- | --- |
| | "Bea Stays in the Picture" | |
"Bea Stays in the Picture"
Season:
1
Production code:
101a
Broadcast number:
1
Broadcast Information
Disney Channel premiere:
September 3, 2010
Disney Channel (UK) premiere:
September 17, 2010
Disney XD premiere:
September 23, 2011
"I am not going to let the yearbook ruin my life. And that means I am staying after the last bell to destroy that picture."
―Bea Goldfishberg
Bea wants her school photo to be perfect. When the photo turns out horrible, she enlists her friends Milo and Oscar to help her retrieve it and get rid of it.
Episode Summary
[
edit
]
"Come on! Let's see those pearly whites people!"
[
edit
]
Bud is waxing the floor and is distracted by a flash coming from the fish tank. He ignores the flash and resumes waxing the floor. In the fish tank, the students of Freshwater High are lined up to get their school photos taken. Bea tells her friends Milo and Oscar that she's nervous. Milo says that it's just school picture day. Bea says that it's different this time because it's the high school picture. Bea wants today to be the most important day of her life. Milo then corrects Bea by saying that the most important day of her life was going to the Britney Trout face concert. Then Bea pretends that it's the beginning of one of her films and there's "Pre-show movie trivia" and the audience have to guess what actress' photo is on the screen. A goth fish takes his photo, and ignores the photographer directions to smile. Montage of student's photos: Jumbo Shrimp falls asleep, Shellsea puts lipstick on her mouth, Jocktopus holds eight baby fishes in his arm, a small blue fish is about to be ate by an eel, Koi only has her mouth in the photo and Albert Glass' glass head doesn't show. For his picture, Milo puts a fish hook over his head. Oscar goes next (following Bea's directions), and finds himself in the middle of lovestuck Clamantha, the yearbook editor. The photographer cuts the comb off of Oscar's head, but Oscar doesn't want a giant piece of hair out of his head. Bea is called up, and interrupts the photographer by saying that she needs to get ready. Oscar does the checks, but Bea sneezes when the picture is taken. Bea freaks out when she sees the result, and Clamantha refuses not to put the picture in the yearbook. Milo and Oscar hold Bea back when she wants to get the photo, and Clamantha says that the picture will follow her forever. Bea then tells her friends that she will stay after the last bell to destroy the picture.
"Wait a second...why is it a horror show whenever a girl's into me?!"
[
edit
]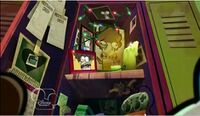 Milo, hiding in the bin, tells Bea and Oscar that the coast is clear. Milo hands Bea a Grow-A-Saurus toy to open Clamantha's locker to see whether the picture is inside. Mr. Baldwin asks Oscar and Bea why they're still here. Clamantha's locker suddenly bursts open, and the Grow-A-Saurus floats out. Mr. Baldwin swims off. Bea, Oscar and Milo look into the locker and find a shrine dedicated to Oscar. Milo comments on the shrine saying it's a horror show. Oscar asks why it's a horror show when girls are into him, and Bea says it's just the shrine thing. Oscar asks if it's weird to have a shrine dedicated to someone you like. While Bea looks into Clamantha's locker once more, Oscar closes his locker, a shrine dedicated to Bea. Bea says that Clamantha must be keeping the pictures in the Yearbook Office. Clamantha enters the yearbook office, blocking an entrance for Bea, Milo and Oscar. Bea suggests waiting for Clamantha to leave the yearbook office, but Joe, the school janitor, sings a song about her never coming out. Oscar then explains to Bea what will happen if Clamantha does never leave the yearbook office. Bea figures out a way to get into the yearbook office, which is Oscar distracting Clamantha and taking her somewhere else, which gives time for her and Milo to sneak into the yearbook office. Oscar says to Clamantha that he saw something shiny in the library, and he wants her to come with him to check it out. Bea enters the yearbook office, but Milo stays in the hallway, practising karate moves. Bea calls for Milo to come in.
"Uh! You have got to be kidding me, Clamantha!"
[
edit
]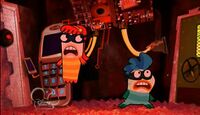 When they both enter, they become confused whether it is the yearbook office. A computer voice asks Bea and Milo to enter a password. Milo then threats the door and attacks it, but ends up getting an injury. Bea calls Oscar over Milo's cell phone, and she finds that Oscar is on a date with Clamantha. Bea tells Oscar to ask Clamantha what the password is. Sobbing, Oscar responds to Bea, saying that his name is the password. Bea enters the password and the door to the yearbook office opens. Milo spots the pictures and attempts to get over them, but ends up making pearls fly everywhere. Bea grabs Milo and swims over to the pictures, avoiding lasers and hooks. Milo thanks Bea for saving him, but Bea spots that his underpants are showing. Bea looks through the pictures, and finds hers, which is perfect. Milo tells Bea that it's a regular picture, but Bea doesn't think so and she points out the things on the picture which are wrong. Milo responds saying that Bea is beautiful, and part of the word is her name. He praises Bea for what she did to help him today and what determination she has. Tears appear in Bea's eyes and she thanks Milo by hugging him. After they exit the yearbook office, Milo tells Bea that he was more worried about Oscar than he was for himself. Bea then realizes that they have forgotten about Oscar, who is on a car date with Clamantha in Lover's Tank, watching the "eclipse". Clamantha tries to kiss Oscar, but Bea knocks on the car and asks Clamantha why she's in the car with her "boyfriend". Clamantha tells Oscar to leave and backs out of the tank. Milo, wearing a fish hook on his head, pretends to be a zombie and tells Clamantha to never come back or the zombies will eat her. Oscar is disappointed when Bea says that she is not his girlfriend and says that he's going to act like this day never happened. Milo and Bea agree with Oscar. A view of the yearbook is seen, which includes Bea's perfect picture.
Credits
[
edit
]
A Western Diamondback Rattlesnake and a House Mouse say that the fish are just like them, but underwater. Following the mouse's suggestment, they both switch over to watch the tarantula play the guitar.
Snake: I totally love watching these fish, I mean they're just like you and me on the underwater! Mouse: Bah, fish schmish, let's switch back to the tarantula for a while. Snake: All right! Oscar: Hey, Milo! (crashing) Ow! W-what happened to the lights? (The Tarantula plays the guitar. The song plays in rock guitar version). Mouse: Yeah! Who-hoo!
Gallery
[
edit
]
The image gallery for Bea Stays in the Picture may be viewed here.
Oscar: My hair just grabs onto combs and doesn't let go.
Clamantha: I can be your comb.
---
Bea: Let's rock this out!
---
Clamantha: After all, this picture will follow you forever, forever, forever, forever (Milo hits Clamantha on the head). See you in the yearbook pages!
---
Milo: The coast-ai is ear-clay.
Oscar: Ear-clay. Urrgh.
---
Headphone Joe: She ain't never coming out! Never coming out! Never coming out! Of that room!
---
Milo: Did you see that! The door just soccer-punched me!
Bea: Milo, give me your phone.
Milo: Good idea. Call the SWAT team!

---
Oscar (over phone; sobbing): It's my name! The password is my name!
---
Milo: Lasers! Cool! (Milo looks at the lasers) OK, not cool! Not cool!
---
Clamantha: (The toy dinosaur floats over the top of L♥vers Tank) Isn't this enchanting! Watching the eclipse together tonight!
Oscar is wearing his suit for the entire episode.
In Clamantha's locker, there is a picture of Oscar in handcuffs. This may mean he has previously been arrested and may have a criminal record. If he did, it would have been difficult to get a job at Carla's Secret ("Employee Discount") and Soggy's Pretzels ("Fish at Work"), unless Barb did not check if he had a criminal record in both cases.
International Premieres
[
edit
]
United States - September 3, 2010
Latin America - September 5, 2010 ("La Foto Escolar de Bea")
Brazil - September 7, 2010 ("Boni Tá Bem na Foto")
United Kingdom - September 17, 2010
Spain - December 30, 2010 ("Bea se queda en la foto")
Germany - December 31, 2010 ("Unknown")
Hungary - January 15, 2011 ("Bea képben marad")
Poland - January 15, 2011 ("Bea zostaje w kadrze")

Turkey - January 15, 2011 ("Bea'nin Korkunç Fotoğrafı")
Czech Republic - February 12, 2011 ("Bea se nestydí")
Romania - February 12, 2011 (?) ("Bea ramane in poza")
Sweden - February 18, 2011 ("Unknown")
Italy - April 1, 2011 ("La foto dell'annuario")
Russia - August 10, 2011 ("Би ничто не остановит")
Portugal - Unknown ("Bia Fica na Fotografia")
Voice Credits
[
edit
]
The Grow-Dino in Clamantha's locker blows the front door of her locker to the other side of the hallway. However, a few seconds later, the door can be seen attached to the locker.
External links
[
edit
]