Dropsy!
From Fish Hooks Wiki
If you are looking for the disease, go to Dropsy (disease).
"Dropsy!"



Milo and Albert Glass upside down in the Dropsy tank.

Season:
1
Production code:
109b
Broadcast number:
17
Broadcast Information
Disney Channel premiere:
January 21, 2011
Disney Channel (UK) premiere:
March 18, 2011
Disney XD premiere:
September 17, 2011
"This is serious! You have to confess unless they'll send you away forever!"
―Oscar
Albert Glass gets Dropsy, a disease which Principal Stickler calls "chickenpox for fish". Milo fakes having that same disease, getting special treatment and attention. Milo panics when he learns he will be sent away so he doesn't infect everyone. Bea and Oscar try to get Milo to confess. Meanwhile, Bea helps Albert Glass get better by giving him tuna fish casserole, which Milo wants.
Episode Summary
[
edit
]
Credits
[
edit
]
Gallery
[
edit
]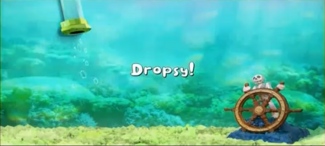 The image gallery for Dropsy! may be viewed here.
Chelsea Kane begins being credited as "Chelsea Kane" in this episode, with all the previous episodes have "Chelsea Staub" credited.
In one scene of Tropical Paradise, the Dropsy tank is a lot smaller than it should be.
In the scene where Milo is shooted out of the tank, the tank he lands in is bigger than the one next to it. Later, when it's Albert Glass' recovery party in the tank next to the Dropsy colony, that tank is alot bigger. Also, another tank has appeared on the other side, which was not there when Milo was shooted out of the tank.
External links
[
edit
]