Fish Prom
From Fish Hooks Wiki
"What's this?"
This article contains information regarding unaired/recently released episode(s) and/or project(s). It may contain SPOILERS. Continue reading at your own risk.
"Fish Prom"
Season:
2
Production code:
221
Broadcast number:
Broadcast Information
Disney Channel premiere:
May 17, 2013
Disney Channel (UK) premiere:
TBA
Disney XD premiere:
TBA

The students of Freshwater High prepare for their prom night. On the night, however, things don't go as well as expected when Angela pays more attention to her video games than Oscar, and when Bea's date Steve Jackson goes missing. Meanwhile, Milo and Randy have both taken guinea pigs to prom and they keep switching dates.
Episode Summary
[
edit
]
Everyone at Freshwater High is excited for prom. Bea had been asked to the prom by Steve Jackson, Oscar had managed to get Angela to go with him to prom and Randy had persuaded Milo to take his guinea pig date's sister to the prom. Raska Boosh was invited.
At prom, Angela uses special head-gear to play a video game. Milo and Randy keep switching dates because Randy finds his boring. Steve Jackson goes to get Bea punch and then finds a spillage on the floor. He goes to get cleaning supplies but is locked inside of the cupboard. Raska talked to Steve Jackson for a few moments.
Oscar gets tired of Angela not paying attention to him, so he shuts her game off and tries to persuade her to dance with him. Raska causes trouble during the process. During the process, he accidentally calls her 'Bea', and she leaves, before telling Bea that Oscar's all hers. Meanwhile, Bea was upset because she had spilled punch all over her dress.
Milo and his date are voted Prom King and Queen, much to Bea's dismay. Finberley announces that the slow dance is starting, but Bea doesn't have a date; neither does Oscar. Raska was under arrested for causing trouble and Raska yells out he'll have vengeance. Bea goes to the Hokey Poke in tears to drown her sorrows, and Oscar follows her. They comfort each other, before they dance together. Bea kisses Oscar on the cheek, making it his 'best prom ever'.
Credits
[
edit
]
This, and "Fish School Musical", are the only episodes to not have Snake and Mouse in the credits tag.Angela is putting her new gaimng helmet away while jumbo is talking to himself about the loss about his robot girlfriend, they look at each other, hinting they will fall in love, meanwhile Steve Jackson is still trapped in a storage cupboard. Clamantha pushes the chairs away and opens the door. Steve thinks Clamantha is going to let him out, but instead, Clamantha goes into the cupboard and shuts the door behind her.
Gallery
[
edit
]
The image gallery for Fish Prom may be viewed here.
[Oscar has turned off Angela's video game.]
Oscar: I thought tonight was going to be the most special night of my life! And all I wanted was that one dance with you, Bea! [gasps] Oh, I didn't mean to say that!
Angela: [shocked] Woah...Bea? Woah. Woah. Woah!
[Angela turns to leave.]
Oscar: Angela, wait!
Angela: Woah! Woah! Wo-ho-ho! Well, Bea! Oh, wow! Wow!
Oscar: Woah.
[Shellsea is cleaning up Bea's dress.]
Shellsea: Here's what you do: [????????????]
[Angela comes up to Bea.]
Angela: He's all yours, Bea!
[She cries as she swims away]
Shellsea: Dang! Girl's had the taco-milkshake combo!
Bea: Yeah...I guess.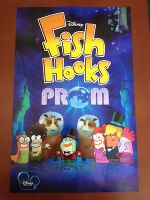 A poster for this episode was given away at San Diego Comic-Con 2012.
A clip from this episode was also shown at San Diego Comic-Con 2012.
In the Fish Hooks video game, on Level 43, players have to help Clamantha get to the exit by moving the Prom decorations.
The first sneak peek of this episode was in a picture posted by a Fish Hooks Spanish dubber.
On October 7, 2012, the DisneyCareers YouTube channel uploaded a "Fish Hooks Home Office" video showing some story ideas for the episode. There will be a song in this episode called Gettin' Ready for Prom.
Clips from this episode appeared in Disney Channel Asia's VIP Party commercial, confirming that the episode premiered during the event on November 13, 2012. This episode did not premiere in Malaysia on November 13, 2012, as well as some other areas of Asia that did not have this episode on their listings. It is possible that Disney Channel Asia put "Fish Prom" clips in their commercial, but they did not air the episode. If this is true, then it will premiere in Asia on February 16, 2013 at 9:20am UAE time. "Fish Prom" premiered in Malaysia on December 8, 2012 at 11:03pm (local time).
David Shair, a storyboard revisionist, will voice a yet-to-be-named character in the episode.
A sneak peek of this episode was put on Disney Channel Asia's website - a clip of Fish Hooks to represent the show in the channel's Top 13 Countdown vote; the event was held on January 1, 2013. The clip showed the Freshwater High students performing Excited for Prom; the clip showed a shortened version of the song.
This episode will be available on demand in the United States from May 10, 2013 until June 16, 2013.
Cast Shot
[
edit
]
Characters in the cast shot: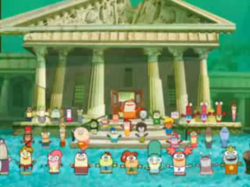 Koi
Finberley
Albert Glass
Student Council
Esmargot
Bo Gregory
Hugh Edmondson
Steve Jackson
Bea Goldfishberg
Milo

Oscar
Freshwater High Marching Band member
Jumbo Shrimp
Shellsea
Punt
Blanda
Dan Chovie
Ann Chovie
Nicole
17 background characters
International Premieres
[
edit
]
November 13, 2012 - Asia (excluding Malaysia)
December 8, 2012 - Malaysia
Voice Credits
[
edit
]
Uncredited:
When Milo says "It's in the bag, so bring your swag, and have the best night ever!", a bit of the dialogue does not match his mouth's movements.
When Bea yells to Coach Salmons that she's got cramp, her P.E. shirt has disappeared.
External links
[
edit
]