Principal Bea
From Fish Hooks Wiki
"Principal Bea"
Season:
2
Production code:
219
Broadcast number:
70
Story by:
Gino Nichele
Nick Confalone
Amy Higgins
Greg White
Rob Hoegee
Written by:
Craig McCracken
Ken Pontac
Guy Toubes
Johanna Stein
Douglas MacCarthy
Storyboards by:
Craig Roberts
Rob Hoegee
Greg White
Written & Storyboarded by:
Craig McCracken
Greg White
Directed by:
Tim McKeon
Broadcast Information
Disney Channel premiere:
September 21, 2012
Disney Channel (UK) premiere:
September 30, 2012
Disney XD premiere:
October 5, 2012
After Principal Stickler goes missing, Freshwater High is left in a state of chaos, so Bea takes over as school principal. However, some of her new policies upset Nurse Fishington, who encourages Bea to play by her rules.
Episode Summary
[
edit
]
Credits
[
edit
]
Gallery
[
edit
]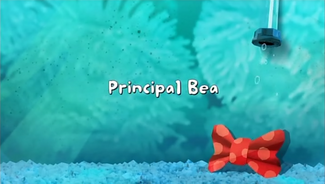 The image gallery for Principal Bea may be viewed here.
[Nurse Fishington's first line in the series:]
Nurse Fishington: Isn't that against school policy, Bea?
This episode is available on demand from September 14, 2012 to October 21, 2012.
This episode's production code was listed as 219 on the Disney Channel Medianet September Episode Premieres listings, however, a post on The Unofficial Official Fish Hooks Blog revealed that 219A was "World's Greatest Grandma". Due to many sources listing episodes in production order differently to the blog's listings, 219 has been listed as the production code.
This episode is the first double-length episode in season 2.
This is the first episode wherein Nurse Fishington speaks. It is also revealed that Nurse Fishington is in fact a robot in disguise.
A clip from this episode was featured on a post on the episode on Geek-news.mtv.com.
In this episode, Principal Stickler resigns and Nurse Fishington is appointed to principal.
This episode gathered 2.455 million viewers and 0.284 million adults 18-49 on its premiere in the United States.
On September 28, 2012, The Unofficial Official Fish Hooks Blog posted an early drawing of Nurse Fishington in her robot form.
External links
[
edit
]