Untitled episodes
From Fish Hooks Wiki
This is a list of untitled episodes, episodes that have yet to be given a title that is made public. The following episodes are in season 3: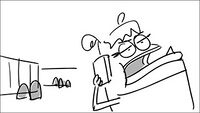 On The Unofficial Official Fish Hooks Blog!, a post on a storyboard panel was wrote. The caption of the single storyboard picture is: "Here's a panel from the board I'm working on. It's probably the most horribly off-model drawing of Piranhica ever made. She's saying, "Well if you didn't want me to eat them, you should've told me that BEFORE you asked me to babysit your kids.""
"oom" episode
[
edit
]
On August 16, 2012, C.H. Greenblatt posted an image on his blog showing a drawing he drew on a Fish Hooks story outline. It has a code of "724D-330", similar to the code on "Fish Lips Sink Ships"' prototype title card. The title is crossed out, but the last three letters of the title can be seen as "oom".
"Cool Jocktopus" episode
[
edit
]
On April 1, 2013, Tom Warburton posted an image on his blog showing a television and a scene from an episode of Fish Hooks on it. The scene shows Jocktopus sitting on a car while playing a guitar and wearing sunglasses.