Spiders Bite/Gallery
From Fish Hooks Wiki
Return to "Spiders Bite"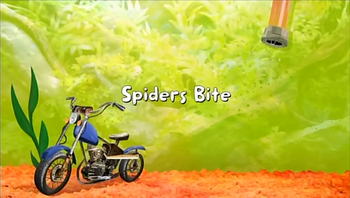 Milo, Bea and Oscar and the gang are interrupted during game night by a rowdy group of spiders, led by Riff (voiced by Ed O'Neill), that just moved in the wall behind their fish tank. While the gang tries their best to be neighborly, they finally reach their limit and decide to settle their turf war with the only way they know how, a drag race.
Read the full summary...
From the episode
[
edit
]
Promotional images
[
edit
]