Spiders Bite
From Fish Hooks Wiki
"Spiders Bite"
Season:
2
Production code:
217b
Broadcast number:
69
Broadcast Information
Disney Channel premiere:
September 14, 2012
Disney Channel (UK) premiere:
September 17, 2012
Disney XD premiere:
September 22, 2012
"Alright, we're doing charades! Boys, you're up first!"
―Bea
Milo, Bea and Oscar and the gang are interrupted during game night by a rowdy group of spiders, led by Riff (voiced by Ed O'Neill), that just moved in the wall behind their fish tank. While the gang tries their best to be neighborly, they finally reach their limit and decide to settle their turf war with the only way they know how, a drag race.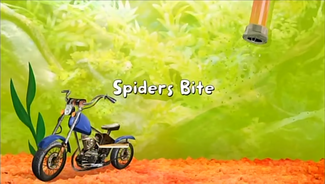 The image gallery for Spiders Bite may be viewed here.
Part of the episode's storyboard and a screengrab from the episode was featured in a photo posted (along with a post) on WarburtonLabs.
The production code for this episode was revealed on the Disney Channel Medianet September Episode Premieres listings as 217B, but then it was revealed on The Unofficial Official Fish Hooks Blog that it was 217A. Due to many sources listing episodes in production order differently to the blog's listings, 217b has been listed as the production code.
Clips from this episode were in a video highlighting animated series' creators' favorite summer activities on Wired.com - GeekDad - Exclusive Video: Phineas and Ferb, Other Disney Animation Creators on What Summer Means to Them.
A clip of this episode, wherein Bea, Milo and Oscar visit the spiders, is featured on a post about Ed O'Neill voicing Riff in the show on The Family Room on Entertainment Weekly, as well as information about this episode.
Ed O'Neill's name in the opening credits is misspelled as "Ed O'Neil".
This episode marks the first time a character (Bea) refers to Milo and Oscar's tank as "Milo and Oscar's tank".
This episode aired in Malaysia on October 19, 2012 at 11:03 pm local time with "Get a Yob!".
The second pie baked has "FRIENDS" and a 'drawing' on it. When Bea tries to get the spiders' attention, the pie no longer has "FRIENDS" and a 'drawing' on it. When Bea says "Anyway", "FRIENDS" and the 'drawing' have returned.