Sixteen Clamandles
From Fish Hooks Wiki
"Sixteen Clamandles"
Season:
2
Production code:
205b
Broadcast number:
54
Broadcast Information
Disney Channel premiere:
February 24, 2012
Disney Channel (UK) premiere:
August 13, 2012
Disney XD premiere:
October 3, 2012

Bea feels like a thoughtless friend when she realizes its Clamantha's birthday and nobody remembered, so she plans a big last-minute surprise party at Clamantha's house. However, when Milo calls Bea and tells her it's not Clamantha's birthday after all, the gang scrambles to clean up since Clamantha is on her way home!
Episode Summary
[
edit
]
Credits
[
edit
]
Snake tells Mouse that she will never guess what's in her pack-thingy. Mouse says "I sure won't" and exits the tank. Snake looks around while the rest of the credits roll.
Gallery
[
edit
]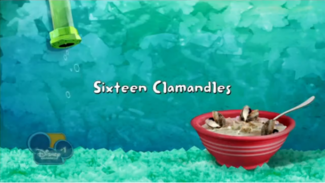 The image gallery for Sixteen Clamandles may be viewed here.
This episode premiered in Canada on December 16, 2011.
This episode reveals more of Clamantha's family.
This episode marks the first time a clam (Clamantha's father) is seen out of its shell.
This episode, and the others which aired during Block 7 in the United Kingdom, aired with no promotional material at all, apart from the promotion for "Science Fair Detective Mystery".
Voice Credits
[
edit
]
It cannot be said who is the voice for Charlie and the voice for Babs because they are both purple clams, and there are no purple clams credited.
Chelsea Kane as Bea
Kyle Massey as Milo
Blake Clark as Chief
Rachel Dratch as Koi & Red Clam
Kyle Massey as Red Clam in Hat
Kevin McDonald as Dr. Frog & Another Cousin Clam
Justin Roiland as Green Clam
Dana Snyder as Clamantha's Mom & Turquoise Clam
Kari Wahlgren as Shellsea & Blue Clam
Kevin Zimmerman as Cousin Gooey Duck & Orange Clam
Uncredited:
External links
[
edit
]
There are three TV.com listings for this episode. The one listed has the airdate listed as December 16, 2011. One of the other listings has the airdate listed as February 23, 2012. A listing for this episode and "Oscar's Secret Admirer" has the correct airdate of February 24, 2012, the day it was released on iTunes. The listing for with the December 16, 2011 airdate is listed here, as "Oscar's Secret Admirer" did not air with this episode.