Fuddy Duddy Study Buddy
From Fish Hooks Wiki
| | | |
| --- | --- | --- |
| | "Fuddy Duddy Study Buddy" | |
"Fuddy Duddy Study Buddy"
Season:
2
Production code:
218a
Broadcast number:
74
Broadcast Information
Disney Channel premiere:
November 30, 2012
Disney Channel (UK) premiere:
TBA
Disney XD premiere:
November 8, 2012

Oscar and Shellsea find themselves paired up for a science fair project and they disagree about everything. Meanwhile, Milo and Bea genetically modify an apple to make it even more amazing.
Episode Summary
[
edit
]
Credits
[
edit
]
Mouse says after watching the fish all day she could use some exercise. Mouse asks where her bike is, and Snake says she hasn't seen it anywhere. Mouse finds that Snake has swallowed the bike. Mouse says that she could use a tennis racket, which Snake has also swallowed. Snake has also swallowed Mouse's chair and her genie lamp. Snake tries to think of the right words to say, when Mouse spots that all her stuff is at the other end of the tank. Mouse tells Snake that she should really get the bumps checked.
Gallery
[
edit
]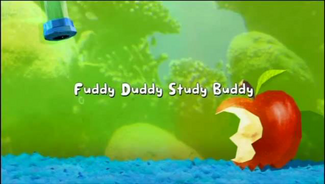 The image gallery for Fuddy Duddy Study Buddy may be viewed here.
Voice Credits
[
edit
]
Chelsea Kane as Bea
Kyle Massey as Milo
Maxwell Atoms as Bo Gregory & Male Office Fish #2
C.H. Greenblatt as Club Bouncer
Chelsea Kane as Female Office Fish #6
Justin Roiland as Computer Voice
When Bea is shown singing along to I Wanna Dance, she sings the wrong lyrics.
Oscar doesn't have his bag next to his desk until the shot where he puts his Video Boy in his bag.
Oscar rummages around his bag for a library book, but we would have been able to see the book and Oscar rummaged around a lot in his bag despite his bag being small and that another library book could not fit in his bag.
When Shellsea and Oscar enter the lair, the computer is not opposite to the door. In the next shot, it is. Also, when they enter the lair, Oscar's filing compartments are near the door. When Oscar is at the computer and then goes over to the filing compartments, they are still at the door, but it seems that the computer has moved again. When Shellsea leaves, the computer is now opposite the door.
In the video of Oscar in the bath, Oscar's teeth are shaped like triangles when he notices Milo is filming him.
The apostrophe is missing from the "Don't Mess Up" poster.
Oscar's secret lair cannot be seen from outside the tank, unless it is part of the next tank along from Oscar and Milo's bedroom.
Oscar and Milo's tanks are at the end of the row.
When Oscar says "We did it, Shellsea", the apple tree has disappeared. Or, it could be out of shot.
External links
[
edit
]