Fish Lips Sink Ships
From Fish Hooks Wiki
"Fish Lips Sink Ships"
Season:
2
Production code:
215a
Broadcast number:
73
Broadcast Information
Disney Channel premiere:
October 26, 2012
Disney Channel (UK) premiere:
April 13, 2013
Disney XD premiere:
November 11, 2012

Milo discovers that Mr. Baldwin has a secret crush on Ms. Lips and promises not to tell, but unable to keep the news to himself, he quickly tells Bea and Oscar. Upon hearing the news, Bea decides to play matchmaker, much to the dismay of Milo and Mr. Baldwin.
Episode Summary
[
edit
]
Credits
[
edit
]
Snake says that her and Mouse ought to get their band back together. Mouse tells her that they never had a band, and Snake tries to remind her - she played the drums and Mouse played the guitar. Mouse tells Snake that she likes to hit things, and asks her if she's sure that she didn't play the drums. Snake corrects herself, saying that Mouse is right because she used to sing. Mouse tells Snake that it's all coming back to her, and asks Snake why they broke up. Snake starts to sing, which reminds Mouse about why they broke up. She also announces that the reunion tour's off.
Gallery
[
edit
]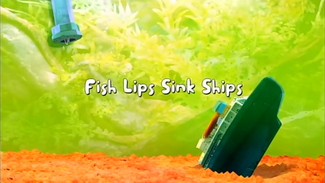 The image gallery for Fish Lips Sink Ships may be viewed here.
[In Milo and Oscar's tank, after Milo has told Oscar and Bea about Mr. Baldwin's crush on Ms. Lips.]
Bea: What? Why would she reject him? They're perfect for each other! They're both single, and old, and they're both...old.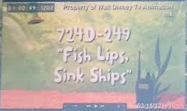 International Premieres
[
edit
]
October 17, 2012 - Malaysia
December 22, 2012 - France
December 23, 2012 - Netherlands
January 8, 2012 - Australia
Voice Credits
[
edit
]
Chelsea Kane as Bea
Kyle Massey as Milo
Rachel Dratch as Esmargot, Koi & Blanda
Justin Roiland as TV Character on Show
Dana Snyder as Mr. Baldwin, Bud & TV Announcer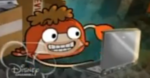 During the song Oh My Bea (Did You Hear?), Randy doesn't actually type on the computer - he is typing underneath it.
When Milo opens his locker there is nothing in there, but Milo picks up a book from the floor of the locker in the next shot. Also, there are more stickers on the walls of his locker in that shot than there was in the first shot.
External links
[
edit
]