San Diego Comic-Con
From Fish Hooks Wiki
San Diego Comic-Con is a yearly event that takes place in San Diego, California, USA. Fish Hooks panels have been there every year since 2011.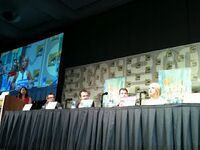 On July 24 at 10am, Fish Hooks had its first panel at Comic-Con. Attending the Fish Hooks panel were creator/executive producer Noah Z. Jones, executive producer Maxwell Atoms, director Bill Reiss and cast including "Dancing with the Stars" finalist Chelsea Kane (Bea), Atticus Shaffer (Albert Glass) and Justin Roiland (Oscar). Fans also got a sneak peek of Disney Channel's then-upcoming animated series "Gravity Falls".
"Fish Hooks" autograph sessions took place at the "Phineas and Ferb-Disney Channel/Disney XD" booth preceding each of the respective panels.
Fish Hooks merchandise was given away at the Fish Hooks panel: the Fish Hooks Keychains and the Fish Hooks Poster.
Fans were able to see a clip from the original pilot and a song from the then-upcoming "Fish School Musical" episode.
The Fish Hooks panel was in Room 5AB, on Saturday July 14 between 3:30pm and 4:30pm.
Fans saw exclusive footage and clips from upcoming episodes of Fish Hooks, Gravity Falls and a look at upcoming series, Wander Over Yonder. A music video for each show premiered at the panel - Fish Hooks' music video was "Hey Hey What What".
Panelists: "Fish Hooks" creator/executive producer Noah Z. Jones and executive producer Maxwell Atoms and voice talent Justin Roiland ("Oscar") and Kari Wahlgren ("Shellsea"). The panel was moderated by Eric Coleman, Senior Vice President, Original Series, Disney Television Animation.
The Fish Hooks Prom Poster was given away at the show's panel.
Jones spoke to La411 about the Fish Hooks panel. "It was really amazing – the room was filled and during the signing we ran out of posters," recalled Jones. "It's great for fans to have the opportunity to connect to the people they love. It's so rare and such a joy to see. "So much as evolved since the first show, we know what works now. The studio that is creating our animation has become more comfortable and familiar with the intricacies of the animation style and the characters," said Jones. "In looking to simplify the style and bring it back to the way it was in the beginning we have been able to explore story lines that we weren't expecting to explore in the beginning."