Bea Sneaks Out
From Fish Hooks Wiki
"Bea Sneaks Out"
Season:
2
Production code:
209a
Broadcast number:
58
Story by:
Craig McCracken
William Reiss
C.H. Greenblatt (story)

---

Mark Ackland
Guy Toubes (teleplay)
Written by:
Guy Toubes
Amy Higgins
Craig McCracken
Scott Sonneborne
Craig Roberts
Rob Hoegee
Dave Thomas
Alex Kirwan
Alex Hirsch
Craig McCracken
Ken Pontac
Storyboards by:
Craig McCracken
Guy Toubes
Rob Hoegee
Directed by:
Eddie Trigueros
Benjamin Balisteri
Vaughn Tada
Broadcast Information
Disney Channel premiere:
May 11, 2012
Disney Channel (UK) premiere:
June 15, 2012
Disney XD premiere:
July 26, 2012

When Bea's parents won't allow her to go to a ferret party that all of her other friends are going to, she decides to lie to them and go anyway. It's all fun and games, until the ferrets break out the ferret shuffle and everything gets out of hand! Meanwhile, Oscar and Milo are having their own troubles at the party - girl troubles. Oscar can't seem to shake an extra-clingy, annoying ferret girl named Rachel, and Milo encounters a particular girl hamster from the past that broke his heart.
Episode Summary
[
edit
]
End Credits
[
edit
]
Mouse texts Snake a message, and she replies back. Mouse replies back to Snake, and this goes on. During the end logos, Mouse is heard exclaiming "I know, right!".
Gallery
[
edit
]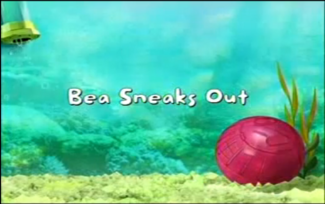 The image gallery for Bea Sneaks Out may be viewed here.
[In the girls bathroom.]
Bea: I have always wanted to go to a ferret party. Finberley, you can count us in.
Milo: [through vent] Count us in too!
[All of the girls look up at the vent.]
Oscar: [through vent] Sssshhh...Milo!
Bea: Milo, have you and Oscar been listening to us through the vent?!
[The scene switches to the boys bathroom. Milo is by the vent while Oscar watches him.]
Milo: Well, duh! This is how we learn about girls.
[The scene switches back to the girls bathroom.]
Oscar: [through vent] Milo, shut up!
Bea: Mmmm...that's a little creepy!
---
[In the girls bathroom.]
Bea: Tonight, we are partying ferret style!
[The scene switches to the Goldfishbergs' kitchen. Norman is eating dinner.]
Norman: Absolutely not!
[The camera pans out to reveal Mrs. Goldfishberg and Bea sitting at the opposite end of them at the table.]
Bea: But dad!
Mrs. Goldfishberg: Sorry dear!
Bea: But mom!
---
[In Jason's house, where the ferret party is taking place]
Milo: Wait, this is a ferret party?! I thought this was a parrot party! What am I supposed to do with all these crackers I brought?
This episode reveals that Finberley is a bad driver.
This episode marks the first time in the series that Norman Goldfishberg has shown his mean side.
This episode is gonna seem a big day or a (same) day as "Fish Out of Water"
International Premieres
[
edit
]
Template:Col-4
May 11, 2012 - United States
August 6, 2012 - Italy
July 26, 2012 - France
October 5, 2012 - Canada
August 16, 2012 - United Kingdom
August 20, 2012 - Australia (4:30pm local time)
Voice Credits
[
edit
]
External links
[
edit
]